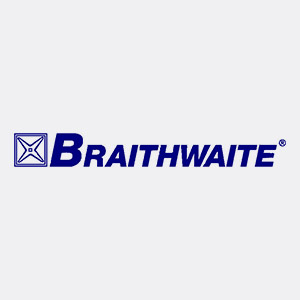 Send Message to listing owner
Please
log in
to be able to send messages to the listing owner.
Company Telephone Number
01633 262141
Address
Leeway House, Leeway industrial Estate, Newport
Type of Organisation - Professional Services
Engineering
Type of Organisation - Contractor
Process, Mechanical
Type of Organisation - Equipment Provider
Process, Mechanical
Areas of expertise - Professional Services
Water Resources, Water supply – Networks, Wastewater – Networks, Industrial Wastewater
Regions the organisation has experience working in
Africa, South Africa, Egypt, Kenya, Tanzania, Uganda, Ethiopia, Ghana, Eastern Europe & Central Asia, Kazakstan, Middle East, Saudi Arabia, Iraq, Oman, UAE, South Asia
Regions the organisation is interested in working in
Africa, South Africa, Egypt, Kenya, Tanzania, Uganda, Ethiopia, Ghana, Eastern Europe & Central Asia, Kazakstan, Middle East, Saudi Arabia, Iraq, Oman, UAE
Elevator Pitch (50 Word or Less)
Braithwaite Hot Pressed Sectional Steel Tanks provide robust water storage solutions, high on reliability, low on maintenance with in-service examples approaching 100 years. Contributing to meeting UN Sustainable Development Goals. Addressing today's water challenges requires an investment in quality infrastructure products to serve future generations. 'Water, our most valued resource'.
Describe your business.
Braithwaite Engineers Ltd, a globally respected UK company with a reputation for technical excellence founded on more than 135 years of engineering experience.

The Braithwaite name is synonymous in the water sector for a range of liquid storage tanks and ancillary products. The company specialises in the design, manufacture and supply of the highest quality galvanised, hot pressed, sectional steel water tanks available on the global market.

Modular in design, the Braithwaite Tank is truly versatile both in construction and application.

Our hot pressed sectional water tanks are used in a diverse range of applications where a secure supply of water is required. These include meeting the demands of rural and urban water supply schemes, utility companies, manufacturing and industry, social sector providers including hospitals and housing, public and private building developments, together with retail, leisure and hotel water storage requirements.

The modular tank panels are designed and manufactured for ease of shipping, delivery, assembly and maintenance. Their portability allows for access to areas where alternative tank products are not a viable option. Standard modular configuration of Braithwaite tanks are either square or rectangular in plan with the tank capacity tailored to meet client's requirements. Tanks can be fabricated for volumes ranging from 1000 litres to 15,000,000 litres.
In addition to tanks, our engineering staff lead in designing and supplying ancillary equipment including structural steel towers, valves, pipework, handrail, staircases, ladders and service platforms.


The use of high quality materials in the manufacture of our galvanised water storage tanks ensures an exceptional life expectancy. The heritage and evolution of the Braithwaite Tank has created a justifiably sustainable product where a 100 year asset life is a proven reality.
As a company we are committed to working collaboratively with clients in the public, private and commercial sectors offering in house 'design-manufacture-supply' to large and small scale water infrastructure projects. Our approach ensures accuracy in cost estimating, fewer problems during construction, and realistic design to construction scheduling. Braithwaite's design engineers, cost estimators, and manufacturing managers have the experience to complete contracts on time and within budget.

Together with extensive work in the UK, Braithwaite is also an experienced and trusted exporter with a track record, dating from 1914 of successfully delivering water tanks and ancillary products in countries across the globe. Our world-wide reach is supported by staff with extensive knowledge of the regulatory requirements of our international clients.

Braithwaite Engineers Ltd has a history and a particular interest in collaborating to meet the future water storage needs of developing countries. With increased water demand and unpredictability of supply informing the deployment of sustainable water management resources, Braithwaite Tanks have a contribution to make in providing quality, reliable and cost effective water supply solutions.
Contact Telephone Number
01633 262141