Solutions to the Global Water Crisis Sought in Scotland
The UK Water Partnership is proud to feature an insightful thought piece by Andrew Tyler, Professor of Environmental Science and Monitoring at the University of Stirling and Scotland Hydro Nation Chair. In this piece, Professor Tyler highlights the urgent need to address the global water crisis and the role Scotland is playing in finding sustainable solutions.
To learn more about the Forth-ERA project and its mission to provide vital information in real-time on water quality and quantity, visit Forth-ERA water core of life. Learn more about the University of Stirling at http://www.stir.ac.uk/.
Solutions to global water crisis sought in Scotland
By Andrew Tyler, Professor of Environmental Science and Monitoring at the University of Stirling and Scotland Hydro Nation Chair, leading the collaboration needed across the Scottish water sector to deliver sustainable water management in Scotland.
Safe water, sanitation and hygiene is vital to human health and wellbeing, but billions of people worldwide still struggle to access these basic services, putting them at risk of disease and death.
The 30th anniversary of World Water Day was celebrated on March 22nd, first marked in 1993 by the United Nations General Assembly with the aim of accelerating action to resolve this crisis.
Whether we like it or not, we're now living at a time when the environment is changing at a rate that is unique in our planet's history. Water is the primary medium through which we in the UK are feeling the effects of a changing climate.
We are witnessing increasing rainfall intensity separated by ever prolonged periods of drought – hydrological extremes that result in shocks to our natural and built environment. Just one of many examples of this is increased surface water runoff which overwhelms our sewage systems and wastewater treatment operations, spilling untreated effluent into our rivers.
Despite such shocks, the natural diversity of our landscape presents opportunities to find nature-based solutions to help us adapt to and mitigate against climate extremes – and right here in Scotland intensive work is going on to do just that.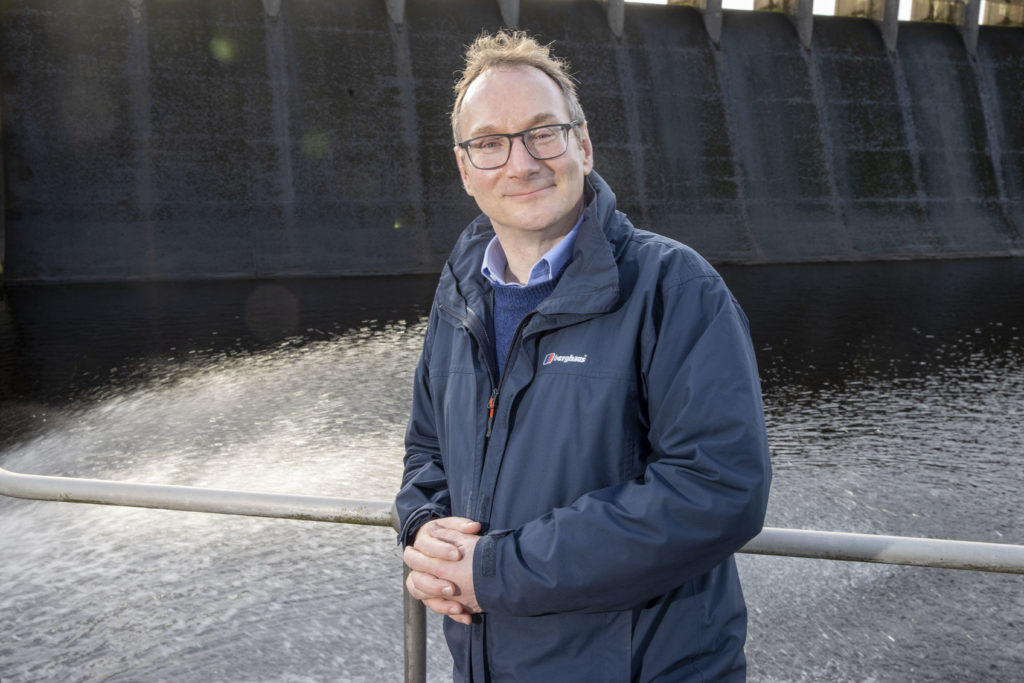 Scotland's International Environment Centre (SIEC) is a multi-million pounds government-backed initiative led by the University of Stirling and funded through the Stirling and Clackmannanshire City Region Deal which will drive research and innovation at scale so that the protection and enhancement of our natural resources becomes an enabler of inclusive growth and supports the just transition to a net zero carbon society.
However, we need a new level of understanding of the water continuum to achieve this sustainably. The first phase of SIEC is a regional scale living laboratory known as the Forth Valley Environmental Resilience Array (Forth-ERA) which has near real-time data flows.
Forth-ERA will harness sensor networks and satellite technologies, as well as autonomous vehicles, coupling these with modelling and artificial intelligence capabilities to deliver a Digital Observatory of the Firth of Forth.
This will provide vital information in real-time on water quality and quantity, and other factors, to mitigate the extreme effects of climate change. Crucially, the programme is engaged with communities to find and agree workable, sustainable and valued solutions.
The approach has attracted engagement from start-up companies and small businesses from across the UK to test next generation in-situ and satellite-based sensing of water and waste waters.
SIEC is becoming a hub of environment innovation excellence in the heart of Scotland, stimulating opportunity and prosperity within some of Scotland's most deprived communities to support the just transition to a net zero society.
At the vanguard of SIEC, the Hydro Nation Chair programme (HNC) is driving research and innovation to support Scottish Water and the wider water sector's strategic ambition of going beyond net zero by 2040. Forth-ERA provides a digital test bed for the HNC Programme.
Forth-ERA is now recognised as an exemplar for digital water monitoring. Currently in its build and test phase, the ambition is to appropriately scale up the digital observatory across the UK and internationally to the benefit of all.