UKWP Water First Event
A brief note summarising the UKWP Water First Autumn Event
On Tuesday 15th November 2022 the UK Water Partnership hosted their annual 'Water First' event at HR Wallingford, themed on addressing global water challenges. The event brought together thought leaders from across government, industry, academia who presented over six thematic challenges for the water industry.
Speakers at the event included: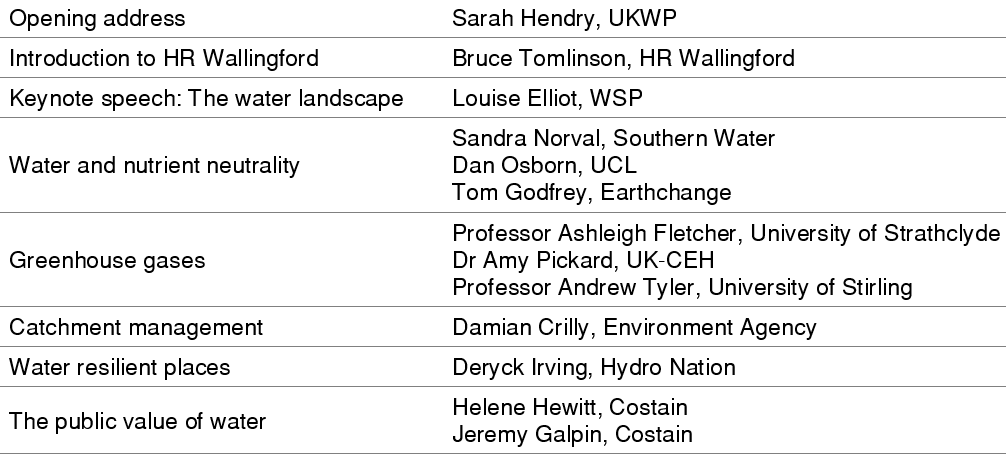 During the afternoon the merits of each challenge area were debated, and there was recognition of the cross-cutting themes between the challenge areas. A round of voting showed that 'Water Resilient Places' and 'Water and Nutrient Neutrality' were narrowly preferred ahead of 'Greenhouse Gases', 'Public Value of Water' and 'Multi-capitals'. The vote was followed by further discussion on the synergies between proposed challenge areas and the support for each area that can be offered by members.
These discussions led to the decision that, unlike last year's event, there wasn't one challenge area that should be UKWP's main focus for the next year. Instead, a scoping exercise and longer-term approach will be carried out for three challenge areas:
Greenhouse Gases

Offer of leadership by Hydro Nation Chair, with support from Arup and Chris Newsome.

Recognition of the need to share data and produce more data for this topic – potential to connect with UKWIR on their new big data project.

Aim is to raise the profile of greenhouse gases in the water sector through producing a thought leadership piece.

Public Value of Water

Offer of contribution from Costain, WSP, and potential support from Sainsburys.

Will be looked at as a longer-term initiative, with stopping points for outputs.

Make sure that there is actually an audience for this from water consumers.

Aim to look into how we define value around water, and the granularity that goes into that.

Water Resilient Places

Offer to lead from Deryck Irving from Hydro Nation, with support from Charlie Stratford from the Centre for Ecology and Hydrology. Interest from DIT.

Positive view that there is a mechanism emerging from the commitment at a policy level that is going to start looking at retrofit solutions, not just for new place making.
The partnership's existing workstreams focused on Circular Economy, Digital Water, Net Zero and Water Resilience will continue in tandem with scoping exercises for the challenge areas listed above.
Dates for Delivery group meetings in 2023:
UKWP Winter Delivery Group – 17/01/2023
UKWP Spring Delivery Group – 16/05/2023
UKWP Summer Delivery Group – 05/09/2023